Hello!, I'm Marcos Baez, a Postdoctoral researcher at University of Trento, Italy, collaborating very closely with the Lifeparticipation group.
Recent publications
Checkout the full list of publications here.
News / Events
Palestra Virtuale (Personal Fitness Clubs): A success March 2015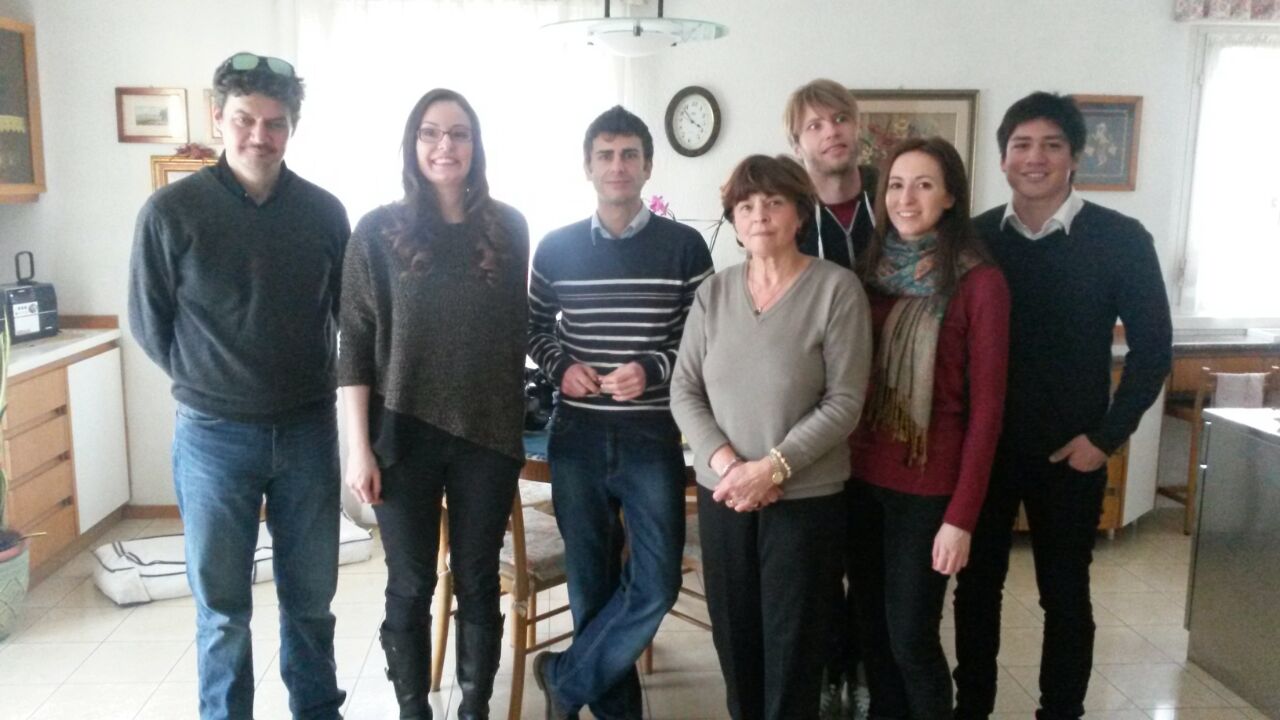 When we started the project a year ago we did it with the idea of contributing to the wellbeing of people, by acting on the physical and social aspects. I reported earlier - rather enthusiastically - on the positive feedback we were receiving, and on how happy people seemed to be of being part of the experience. Now, some numbers start to pop up, and we're happy to announce some very interesting findings: the application, gymcentral, not only enables physical training in older adults, but also motivates them to keep training and even do more exercise than initially prescribed!.
You will find the report we wrote, describing the study and the results, at the official Gymcentral website.
Good news need to be spread, and so, at the end of study, the experience catched the attention of the press and we got interviewed. We ended up being featured first at the regional level and then at the national level in an italian tv network (RAI). The video is below (in italian).
---
The 2015 International Conference on Collaboration Technologies and Systems (CTS 2015) Feb 2015
The International Conference on Collaboration Technologies and Systems, CTS, will be held from June 01-05, 2015, in Atlanta, Georgia, USA. Participation is extended to researchers, designers, educators and interested parties in all CTS disciplines and specialties. The conference includes original work in collaboration technologies, collaboration systems, the Internet of things, people social networks and media, virtual worlds, services computing, social clouds, and related issues.
It is a pleasure to be involved in the organisation. The topics and quality of contributions make of this conference a very interesting venue for anyone working on collaboration technologies. For further information, please visit the website: http://cts2015.cisedu.info/cts-2015.
---
Helping older adults train from home Nov 2014
At lifeparticipation we put a lot of passion, love and effort on the projects we believe in. Over the last two years we have been designing and creating innovative ways to motivate physical activity in older adults. There are tons of research on why this is beneficial, but for us, this mostly means helping the people we care about, have a better life. And that's what we're looking for.
We've been putting our efforts this year in the EIT funded project Personal Fitness Clubs, working with some great partners around the globe. Together, we have developed a great set of technologies and put them in the hands of people. When this happens only great things can happen :)
In collaboration with Trento Rise, we launched two and a half months ago a trial with some older adults in the Trentino region, with the aim of helping them to increase their physical activity, and at the same time, gaining a better understanding of how to more effectively reach that goal. More than halfway in the training progress we've got some great response. I cannot disclose the results yet, but the overall feedback is great: people just love it.
I'll be posting updates when the trial finishes, so stay tunned!. If you want to know more about the project, please visit: gymcentral.net, or just drop me a message.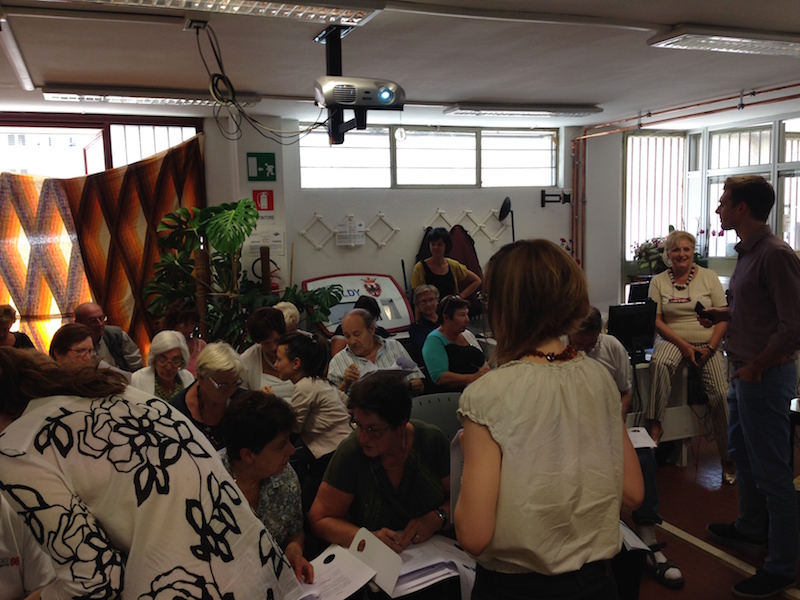 Getting to know each other. It was fun meeting these great people.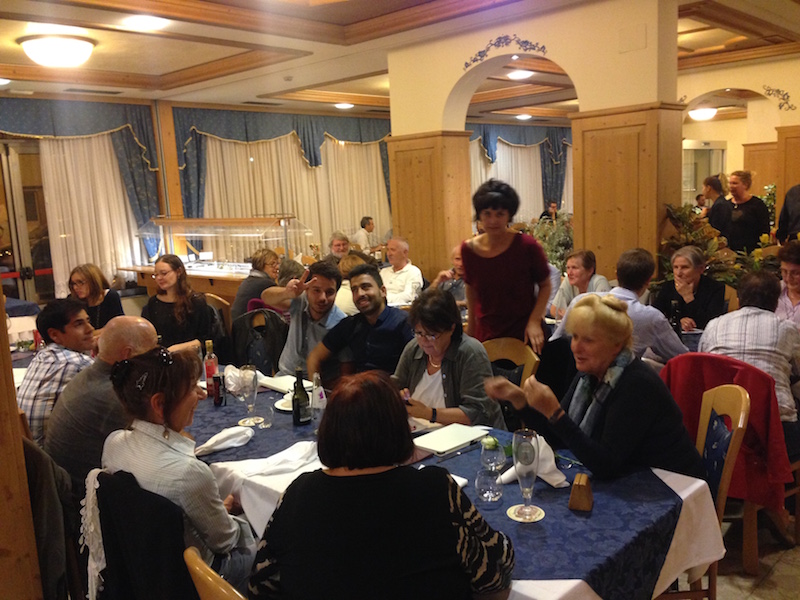 It wouldn't be a truly italian project without a pizza dinner :)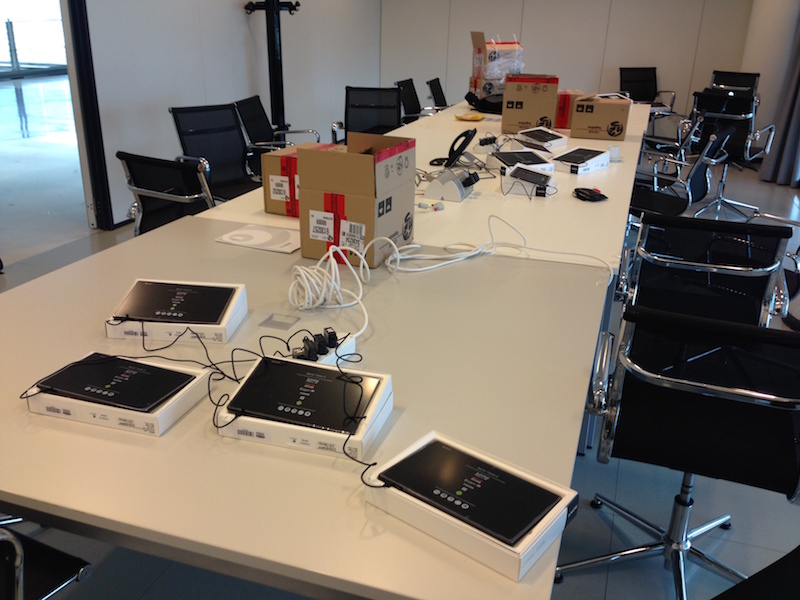 Setting up the tablets. That took quite some time.
---
Best paper award at Social Computing and its Applications (SCA 2013) Sept 2013
I'm happy to announce that our paper Come Along: understanding and motivating participation to social leisure activities by Beatrice Valeri, Marcos Baez and Fabio Casati, won the best paper award at Social Computing and its Application, SCA 2013. The conference was held in Karlsruhe, Germany, and started on monday the 30th of September with the workshops and continued for two other days.
The paper reports on a series of studies we run aiming at understanding what shapes people's decision in participating of leisure activities. It is available for download here.
---
Selección Texo: Supporting a great social and cultural project
When we got in touch with the people from Selección Texo a month ago, we got very excited about their project: they wanted to bring together pieces of popular and native art from Paraguay into one great exhibition. Quoting the organisers:
A community proud of its culture is a community that moves forward, a community that grows and evolves. We want to share our art and culture with the entire world!
Our team at Lifeparticipation.org, with the great help of paraguayan engineer Maximiliano Báez , put its hands to work own ways of i) helping organisers provide great experiences to their visitors and ii) helping them disseminate the great work their were doing. As a result we developed an Android application, namely Selección Texo, based on our previous research, to help visitors learn more about the artefacts in the exhibition, bookmark the artefacts they like the most, and share their experiences with friends and family. The Android application comes with an accompanying virtual booklet that visitors receive by email as souvenir from their experience.
Screenshots of the Android app and virtual booklet.
---
Summer School on Service Design for Quality of Life
The Summer School on Service Design for Quality of Life, organised by the EIT ICT Labs, is going to be held in Trento, Italy, from the 22nd July to th 2nd of August, and it promised to gather young students from all the European hubs. This is why I am very excited to be involved in the organisation as field expert and mentor.
The theme on "design and services for quality of life" emphasizes ways for improving the quality of life for both elderly people who need some specific assistance and younger people either on their business or leisure activities. This thematic area is introduced through lectures and workshops on methodologies/approaches focused on design & services, on ways to assess and promote peoples' quality of life. Enhancing entrepreneurial skills and specific business capacities from the idea to the project remains key objective.
---
The 13th International Conference on Web Engineering
The International Conference on Web Engineering, ICWE, was held from 8-12 July 2013 in Aalborg, North Denmark. It was a pleasure to be involved in the organization as Poster and Demo Co-chair. We got many interesting submissions, with demos and papers that captured the attention of all attendees. All the materials, videos and presentations can be found at the official ICWE Website.